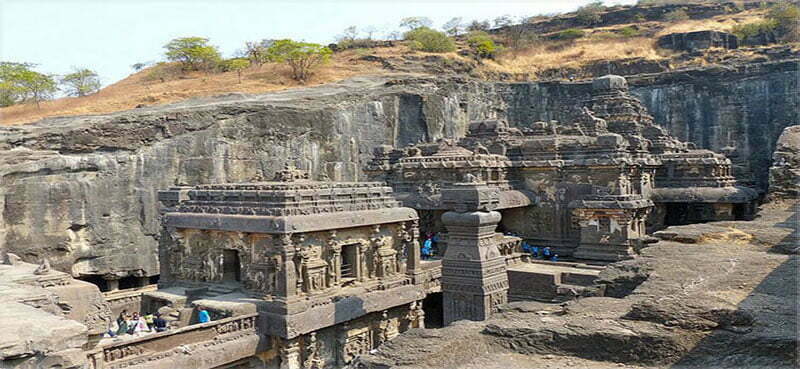 Ajanta and Ellora are beautifully carved out rock-cut caves which are located near Aurangabad of Maharashtra, India. These caves are a perfect example of diversity in spirituality as well because both of these caves state a perfect combination of Buddhist, Jain, and Hindu monuments. Ajanta caves account for 30 in total and Ellora to 34. These caves were built in the period between the 6th and 11th centuries AD.
Ajanta caves were discovered by chance with the help of a British officer in 1819 while hunting tigers. Though it's claimed that the caves were well known by the locals already. Since then it continued to be glory in the historical and archaeological pride of the country. The beauty of these caves is that they elaborate Buddhist ideologies, beliefs with a brief elaboration in the form of carved-out paintings. To make it better for tourists the caves are numbered but still not in a chronology.
Facts about Ajanta and Ellora Caves
Best time to visit: October to March
Languages: Hindi, Marathi, and English
Attractions
Ajanta ViewPoint: Few people know the way to this splendid viewpoint, hovering over the Ajanta Caves at a distance of approx 10 km. This aesthetically placed viewpoint helps one to cherish the splendour of Indian rock-cut architecture.
Ellora Festival: This is a classical music and dance festival organized at the Ellora cave milieu. Been held during the month of March, experiencing such a brilliant performance in the backdrop of over 1400-year-old caves is once in a lifetime experience. Organized by the Maharashtra Tourism Development Corporation it gives a chance to witness some of the top-notch classical dancers, musicians, and artists.
Bibi-ka-Maqbara: Emperor Aurangzeb built a burial ground for his wife Rabia-ud-Durrani. The mausoleum that built-in 17th Century is known as the Bibi-ka-Maqbara.
Aurangabad Caves: Located around 2km from Bibi-ka-Maqbara, these are a total of 12 Buddhist Caves comprising of some of the most beautiful sculpture carvings in the World.
Getting there
By Train: For Ellora nearest railway station is in Aurangabad (30 km), while for Ajanta it is Jalgaon (57 km).
By Road: Both Ajanta and Ellora are well connected to all the prime cities – Mumbai, Pune, Ahmednagar, Jalgaon, Shirdi, Nasik, Dhule, Ahmedabad, Hyderabad, Indore, Bijapur, and Aurangabad.
By Air: The nearest domestic airport is in Aurangabad (30 km from Ellora, 90 km from Ajanta). The nearest International Airport is in Mumbai (400 km).
Oceans Travel offers you the best deals on cheap flights to Aurangabad and provides you with the most comfortable trip. To avail of our expert travel service and book your cheap flights to India, cheap flights to Aurangabad. To start with your planning now, visit our website at https://www.oceanstravel.co.uk/ for more information.