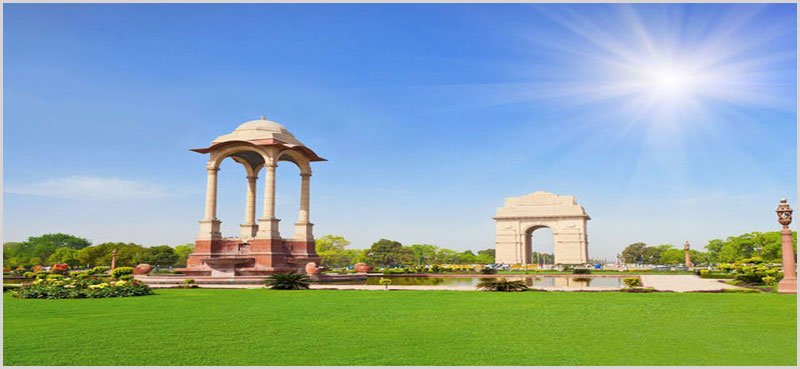 The commercial and business hub of India, Delhi has been witness to a tumultuous history of uprising and falling of many empires. This hustling and bustling metropolitan city comprises of seven cities that were built by different emperors from time to time.
It is perhaps the only city in the world that presents so many contrasts at once – there is the old-age charm and ruins of Old Delhi and there are strong and mighty giant buildings of New Delhi, there are the chic, fashionable belles of South Delhi and there are India lasses dressed in traditional and ethnic dresses, there are sparkling cars firing through wide roads and there are cycle-rickshaws in the streets of more congested areas.
Tourist Spots in Delhi
Once you step in to this land, you will be able to find numerous attractions as well as places that will gain your interest. Below listed are some must see attractions in Delhi:
Qutub Minar
Red Fort
Purana Quila
Jantar Mantar
Humayun's Tomb
Jama Masjid
Safdarjung's Tomb
India Gate
Rashtrapati Bhawan
Rajghat
Lotus Temple
Old Delhi chandni Chowk
Lakshmi Narayan Mandir &Delhi Metro.
Shopping Attractions in Delhi
The vibrant and exotic atmosphere of Delhi markets can make shopping lots of fun. In fact, Delhi has the best markets in India, with handicrafts from all over the country. Some of the shopping areas in Delhi that are popular with the tourists in Delhi include:-
Dilli Haat
Janpath and Tibetan Market
Khan Market
Paharganj
Chandni Chowk
Lajpat Nagar (Central Market)
Sunder Nagar
Sarojini Nagar(South Delhi)
Eating Out in Delhi
From the by lanes of the walled city to the swanky hotels and restaurants, Delhi has the taste of all. Delhi gives you the option of choosing from the wide variety of cuisines, which is a mixture of regional and international food.
Karims
Nirula's
Sager
Bukhara
Delhi ka Aangan
English Dairy ( Connought Place)
Dum Pukht
Handi
Hotels in Delhi
Delhi has hotels and tourist accommodation all across the city providing cheap and best service. Hotels in Delhi suit all pockets where a visitor has a number of options to choose from. For people habitual of a luxurious lifestyle, Delhi has five star and three star hotels offering quality service.
Hotel La Sagrita
Metro City
Taj Palace
Hotel samrat
Oberoi Hotel
Hyatt Regency
Park Hotel
Hotel Crown Plaza
Cheap flights to Delhi
Find the latest airfares and discounted offers on flights to Delhi operating from UK.
Preferred Airlines to Delhi from UK
Air India | British Airways | Emirates | Lufthansa | Etihad Airways | Qatar Airways | Turkmenistan Airlines | Virgin Atlantic | Uzbekistan Airways
Airports in Delhi
International Airport of Delhi, popularly known as Indira Gandhi International Airport, is located 24 kilometres south of New Delhi. It is a two-terminal airport with major Airlines from across the world having flights to and from Indira Gandhi International Airport. Out of the two terminals, one is the Domestic Terminal some 3 kilometres away from the International Terminal.
Domestic Airport: Catering exclusively to domestic arrivals and departures, Palam Airport has three terminals: Terminal 1A, Terminal 1B and the domestic arrival terminal. Terminal 1A caters to domestic flights of India's flag carrier Indian Airlines and its subsidiary, Alliance Air while Terminal 1B caters to flights of other scheduled private airlines & corporate / privately owned aircrafts.
International Airport: Serving as the gateway to the Indian mainland, the Indira Gandhi International Airport boasts of one of the longest operating runways in Asia, which stretches up to 4430 metres. Catering to nearly 23 million passengers presently, the airport's passenger handling capacity is all set to increase manifold after its current renovation gets complete by end of June 2010.View the most comprehensive Delhi Airport
Address
New Delhi Indira Gandhi International Airport
'Udaan Bhawan', Terminal 1B
Indira Gandhi International Airport
New Delhi-110 037
India
Telephone, fax, email
Telephone: + 91(0)11 25661000 (T1); + 91(0)11 25662000 (T2)
Fax: + 91(0)11 25672144 or visit
website www.newdelhiairport.in
Best time to Visit Delhi
The best time to visit Delhi is during February and March, during the pleasant spring season when flowers are in bloom, and from August to November, after the monsoon rains have reduced the intensity of the summer heat.

Transport in Delhi
Getting around in Delhi isn't much of a problem as the city has a very well developed network of public transport, which includes buses, taxis, autos, rail and the Delhi Metro.