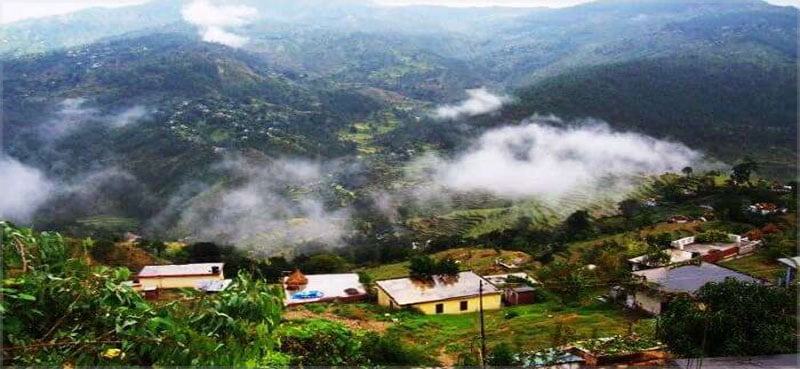 Mussoorie, like other hill resorts in India, came into existence in the 1820s or thereabouts, when the families of British colonials began making for the hills in order to escape the scorching heat of the plains. Small settlements grew into large stations and were soon vying with each other for the title of queen of the hills.
Mussoorie's name derives from the Mansur shrub (Cororiana nepalensis), common in the Himalayan foothills; but many of the house names derive from the native places of those who first built and lived in them. Today, the old houses and estates are owned by well-to-do Indians, many of whom follow the lifestyle of their former colonial rulers. In most cases, the old names have been retained.
Take, for instance, the Mullingar. This is not one of the better-preserved buildings, having been under litigation for some years; but it was a fine mansion once, and it has the distinction of being the oldest building in Mussoorie. It was the home of an Irishman, Captain Young, who commanded the first Ghurkha battalion when it was in its infancy. As you have probably guessed, he came to form Mullingar, in old Ireland, and it was to Ireland that he finally returned, when he gave up his sword and saddle. There is a story that on moonlit nights a ghostly rider can be seen on the Mullingar flat and that this is Captain Young revisiting old haunts.
As everywhere, the Scots were great pioneers in Mussoorie too and were quick to identify Himalayan hills and meadows with their own glens and braes. There are over a dozen house names prefixed with "Glen."
The English, of course, went in for castles there's Connaught Castle and Grey Castle and Castle Hill, home for a time to the young Sikh prince, Dalip Singh before he went to England to become a protégé of Queen Victoria.
Camel's Back Road
Camel's Back Road is a three kilometre long stretch from Ambedkar Chowk in Mussoorie to Kulri Bazaar. It is one of the must visit attractions in Mussoorie town. The road takes its name from the rock which is shaped like a camel's hump on its back. It is an ideal place to take a stroll as one can get mesmerising views of the valley and mountains from here. The peaks of Badrinath, Kedarnath, Gangotri, Yamunotri are also visible from here.
Gun Hill
Gun Hills, the second-highest peak of the Mussoorie, offers you a sensational view of the Himalayan mountain ranges. The fascinating natural beauty will make you fall in love with it. Photographers and tourists all around the globe, hugely admire this hilly area. The most interesting thing about this place is; you'll get a 360° view of the famous Himalayan ranges like Srikantha, Bunderpunch, Gangotri group, Pithwara, etc. You can reach the Gun Hills by using the legendary ropeway of Mussoorie from the Mall. You can enjoy the phenomenal scenic beauty of Mussoorie and Doon Valley while riding the ropeway. If you ask your guide he will tell you interesting facts about the place. Like; the story behind the naming of the place. Prior to the independence of India, a gun was mounted on the top which was fired at mid-day so that people can adjust their clocks. Since then, it has been known as the Gun hills.
Mussoorie Lake
Mussoorie Lake in Uttarakhand is to some degree a newly evolved excursion destination as of late created by Mussoorie Dehradun Development Authority on the Dehradun Mussoorie road. It is somewhere in the range of 6 kilometers from Mussoorie. A perfect place and nearly less stuffed; there are few shops around to eat and doing shopping here. You can find the paddled vehicle here to take you round in the water.
Vinog Mountain Quail Sanctuary
A visit to Vinog Mountain Quail Sanctuary can also be combined with other tourist attractions across the city. With its delectable cuisines, and opportunities to explore the surrounding areas, Mussoorie is perfectly poised to offer an experience that is both, authentic as well as unique! There are many ideal locations to visit in and around this wonderful city, with prominent local landmarks and favorable restaurants being just a few examples. Make a trip to Mussoorie and its exciting places of interest to enjoy a memorable vacation. A visit to Vinog Mountain Quail Sanctuary will give you a greater insight into the various cultures and traditions of Mussoorie. If you are planning a vacation in Mussoorie, then you must go visit Vinog Mountain Quail Sanctuary. It is an intrinsic part of the socio-cultural landscape and hence, offers an insightful peek into life, as it exists in Mussoorie.
Kempty Fall
This 40 foot, the perennial waterfall is the highest of five cascades that branch from a mountain stream, cutting its way through great boulders and down rock faces. But the walkway is crowded with stalls and photographers. If you want a secluded place, climb the steps leading up from the road along the stream to a little rocky dell cooled by water gushing through boulders. There is also a convenient ropeway to ferry you back and forth. The Himalayan adventure institute which conducts rock climbing, nature camps, and river crossing, overlooks the falls.
Dhanolti
24 km from Mussoorie, Dhanolti provides a breath-taking view of the valleys and the Himalayan peaks. The long wooded slopes, lazy outings, cool caressing breeze, warm and hospitable inhabitants, lovely weather, and fabulous view of snow-covered mountains make it an ideal retreat for a relaxed holiday.
Surkanda Devi
Situated at an elevation of 3030 mts above sea level near village Kaddukhal the temple of Surkanda Devi is 33 km from Kaddukhal and one has to trek about 2 km. The temple of Surkanda Devi is situated on the top of the mountain and is of great religious significance. A fair is held every year on "Ganga Dussehra" during May-June in which thousands of people participate.
Bhadraj Temple
About 15 km from Mussoorie, it is an ideal spot for trekking via Park Toll-Clods end, Dudhi. Situated in the extreme western region of Mussoorie town, Bhadraj offers a commanding view of the Doon Valley. Chakrata ranges and Jaunsar Bawar areas can be viewed from here. Bhadraj Temple is dedicated to Lord Bal Bhadra, brother of Lord Krishna.
Oceans Travel offers you the best deals on cheap flights to India, to discover this beautiful place, and provides you with the most comfortable trip. To avail of our expert travel service and book your cheap flights to India and for more information, visit our website at https://www.oceanstravel.co.uk.