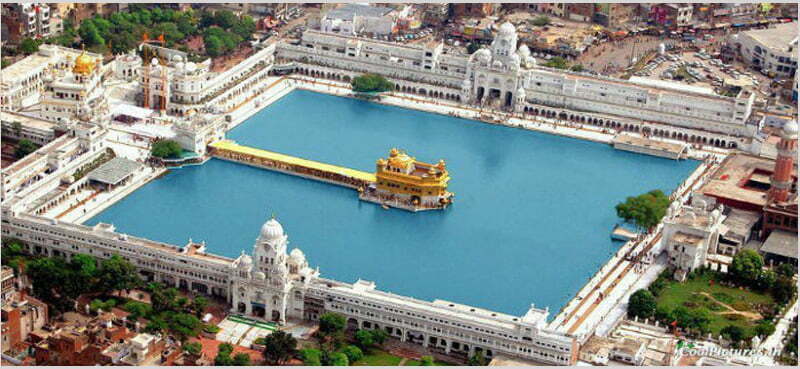 Amritsar historically also known as Ramdaspur and colloquially as Ambarsar, is a city in the north-western part of India. It is the spiritual center for the Sikh religion and the administrative headquarters of the Amritsar district in the state of Punjab.
The city no longer revolves around the traditional – Punjabi juti and papparwarian – shopping. Today, every major global and domestic brand is looking for attention in trendy markets. The mall culture, that infected the city only a couple of years ago, has suddenly gained pace with many new ones already lining the streets and many more getting ready. Lawrence Road and The Mall are more in focus and offer some of the best shopping for global brands in almost every product variety.
The Mall is visible from a distance as it towers over the elegant bungalows of the avenue and houses one of the best department stores in the city, Ebony. Here you can buy anything from fine china (including international brands), clothing and fabric, bags and travel gear, music and film DVDs, toys and sporting goods, gifts and bouquets, etc. Along the same road is Platinum Plaza, another, a small mall that houses Talwar Furnishing and Sardar Hall Stopover specializing in apparel.
Amritsar is a large producer of woolen blankets with weaving mills distributed throughout its industrial districts. Other products are industrial manufactures, utensils, etc. The city is also a very famous and major producer of pappar and warian, spicy foodstuff. Every large producer of blankets and hosiery goods has an office/outlet at Katra Sher Singh near the Golden Temple. Guru Bazaar and Hall Bazaar, also in the same area, are the places to buy jewellery and pappar warian.
Hall Bazaar
Located in Amritsar, Hall Bazaar is one of the oldest marketplaces in the country. One of the busiest shopping destinations of Amritsar, this historical bazaar is only 1 km from Amritsar railway station and only 1.3 km from the Golden Temple. The many stalls and shops here offer electronics, books, apparel, jewellery and ornaments, handiwork, Chinese lanterns, the world-famous Phulkari embroidery, and Amritsari juttis among many other things.
Apart from the high octane shopping experience, the Hall Bazaar is home to some beautiful olden architecture including the Mughal archway entrance, called Gandhi Gate, complete with a giant clock with the caption 'Amritsar – Sifti Da Ghar'. The market is also home to some of the best restaurants and food stalls in the city offering mouth-watering Punjabi cuisine.
Tips for Shopping in Hall Bazaar
Be sure to not go in large groups as the market crowded gets incredibly crowded.
Bargain well as a lot of the vendors tends to overprice their products.
The auto- people and rickshaw people tend to know the shops where you can grab the best deals.
Guru Bazar
Guru Bazaar is one of the oldest markets in Amritsar and has been attracting people to the city for many years now. True to its name, the market is sandwiched between Guru ka Mahal and Golden Temple. So, if you are on a visit to any of these places, do not forget to drop in here. The market is visited by hundreds of people, especially women, for the love of jewellery. Guru Bazaar is famous for its gold and silver ornaments, and the traditional Indian jewellery known as 'Jadau.' Women flock to the shops of this market to take home gorgeous pendants and earrings studded with semi-precious stones. The market boasts of having more than 2500 shops that do not only sell jewellery but also attractive earthen lamps, glittering silver diyas, and hatli, and idols of Lord Ganesha and Laxmi.
Katra Jaimal Singh Market
Katra Jaimal Singh, situated near Hall Bazar is famous for the textile business. The sari and fabric shops here are a textile lover's delight, which provides silky-smooth synthetics to the finest silks and wools. The other items available here are pashminas, marvelous beaded dresses, well-designed men's wedding suits, and attractive boxed shirt-and-tie sets with quasi-designer names at reasonable prices. The market is also famous for beautifully designed handicrafts such as Phulkari, jewellery and woodwork goods, etc.

Kapda Bazaar
Kapda Bazaar called the 'Clothes Market' in English is renowned for selling all types of traditional Punjabi apparel. It is located near the Town Hall of Amritsar and can be seen crowded with ladies at most times of the day. The market is popular for its Patiala salwar that you find in a variety of colours and sizes. Also, traditional Indian suits adorned with beautiful phulkari work are available in most of the shops. The phulkari-embroidered apparel can be bought in different ranges from light work that can be worn in casual wear to heavy work that can be worn for celebrations. Not just apparel, you can also buy earrings, bindis, bracelets, and bangles from the Kapda Bazaar. So, come here, indulge yourself in a great shopping experience, and buy some of the finest and most fashionable garments available in the whole of Punjab.
Mishri Bazaar
Amritsar, the holy city of Sikhs in Punjab, is also known for its over five hundred years old markets that been a witness to all ups and downs that the walled city has been a witness to The main markets that earned the city a big reputation were mainly Paparian Wala Bazaar (crispy fried dough wafers market), Mishri Bazaar, Dal Mandi (spice market), and Majith Mandi and Mai Sewan Wala bazaar.
One of the most visited places is Mishri Bazaar or the candy sugar wholesale market, which is counted as one of the earliest known markets here. Started in the 16th century in a long narrow lane near Sri Harmandir Sahib, known as the Golden Temple, the holiest shrine of Sikhs, Mishri Bazar required people to pass through many narrow lanes of the city.
There was a time when a huge number of customers would visit Mishri Bazar to buy Mishri for their personal or business requirements in bulk. But today the heavy traffic and congested place have affected the charm of visiting or being in this market.
The Mishri Bazaar of the past is today a crowded place, with so many shops of wholesalers putting their goods outside their shops due to shortage of adequate place and the consistently running traffic has discouraged a lot of people to come here.
in the olden days, its proximity to Lahore attracted traders from West and Central Asia to the Amritsar markets. Even today, several traders from all over Indian and especially the Delhi exporters come here to buy Muraba and other delicacies.
There are over 30 shopkeepers who are doing a brisk business in Mishri (or, sweet candy).
Mishri Bazaar is home to all varieties of dry fruits. Many shopkeepers claim that some of these varieties come from Afghanistan. Though Mishri Bazar is basically a wholesale market one can also buy sweet candy in small quantities from some of the shops.
Papad-Warian Bazaar
This famous snack of Amritsar is not only exported to the other parts of the country but also outside India. The Papad is being prepared in the city itself for various decades now and is spreading around the aroma of the spices. The taste is so spicy and the aroma is so entrancing that makes it one of the irresistible food accompaniments to the meals in Punjab. Three different types of Papad with respect to its piquancy are prepared by the makers considering the taste buds of the people, so you just have no reason to miss out on this.
Amritsari Papad
As India is a land of diverse cultures and traditions, the food items and their recipes also vary from region to region. Papad is known to the residents of different states by different names like Appalam in Tamil Nadu, Pappadam in Kerala, or Happala in Karnataka. Preparing it in India is often cited as an example of the women's empowerment movement in India, as the majority of this business in India is controlled by women.
People often buy papad from markets because it needs a lot of hard work and physical force to get them done right.
People in Punjab usually have their meals accompanied by it but in other parts of the country, it is eaten just as a snack with chutney or other dips. Give your taste buds an amazing experience of this spicy specialty from the famous Papad Warian Wala Bazaar in Amritsar.
Amritsari Warian
Though being spicier than Papad, Warian is also prepared from dough which is mixed with the liquid amalgamation of ground urad daal, heeng, black pepper, salt, and coriander seeds. Like papad, Warian doesn't hold any particular shape and is also left to be dried in open sunlight. Both Papad and Warian can be stored for a long time as they don't get bad easily. Having a Picante taste, it is used by the Amritsaris in small broken particles in various dishes like rice, curry & most frequently with soybean and potatoes.
You will find the whole market of the makers in the same Papad Warian Wale Bazaar which is behind the premises of Golden Temple. During the late 1980s, this bazaar used to be an unforgettable experience for the life of the visitors due to its highly pungent aroma. Still, people from different parts of Punjab visit Amritsar just because to buy Papad Warian.
Lahori Gate Market
Lahori Gate is a standout amongst the most well-known markets in Amritsar where you can discover an assortment of popular Pashmina Shawls of Kashmir, cotton suits, footwear, and much more. Also, all the products are available at a moderate value which can also be bought at a much cheaper price post bargaining.
Location: Near Hall Bazaar, Amritsar, Punjab India
Shastri Market
Celebrated for various textile producers, this famous bazaar in Amritsar is an ideal place to purchase various apparel. From cotton, manufactured rayon, and fleece, to various other materials, this commercial centre has a great deal to offer to its customers. Famous for jewellery and shoes as well, this market is constantly swarmed as it is one of the best places for shopping in Amritsar near Golden temple.
Amritsar offers a wide range of woolen articles of clothing like sweaters, shawls, and so forth. They are accessible in the local markets principally in Hall Bazaar, a known wholesale cloth market in Amritsar. The hand-woven carpets are likewise sold in huge quantities other than shawls, mufflers, and scarves.
Has your inner shopaholic been evoked yet? If yes, then make a note of these famous bazaars, and indulge in some of the best shopping in Amritsar on your next trip to this historically rich city!
Oceans Travel offers you the best deals on cheap flights to Amritsar and provides you with the most comfortable trip. To avail of our expert travel service and book your cheap flights to India, cheap flights to Amritsar. To start with your planning now, visit our website at https://www.oceanstravel.co.uk/ for more information.