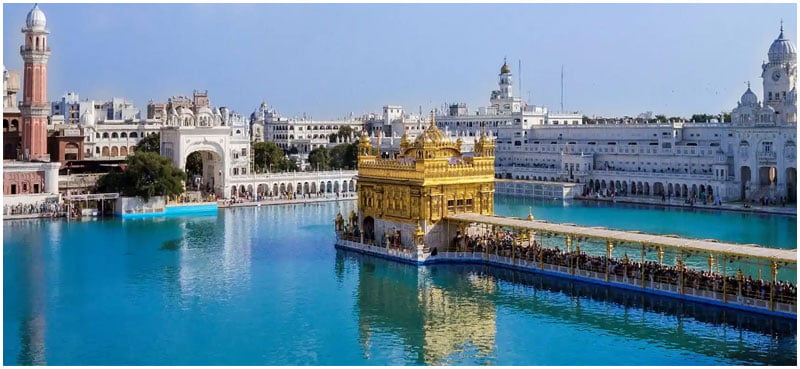 Having derived its name from the Amrit Sarovar that surrounds the famous Golden Temple, the city of Amritsar is located in the Northwestern side of India in Punjab. Some of the prominent attractions of this one of the loveliest tourist destinations in India are the several architecturally brilliant Gurudwaras and temples. Your quest to know about Amritsar on your tour to India you will give you a city of distinct character in areas of culture and customs
Tourist Attractions in Amritsar
Popularly believed to have been laid in 1574, the city of Amritsar is one of the most travelled tourist destinations in India due to the existence of several religious sites. It actually offers a host sightseeing options that are considered as some of the best tourist attractions in Amritsar.

The various tourist attractions in Amritsar are discussed as follows:
Golden Temple
Akal Takht
Jalianwala Bagh
Durgiana Mandir
Baba Atal Rai Tower
Tarn Taran
Rambagh
Goindval Gurdwara
Maharaja Ranjit Singh Museum
Harmandir Sahib
Shopping and Local Bazar in Amritsar
Shopping in Amritsar is a memorable experience. The main shopping areas are the Hall Bazar, Katra Jaimal Singh and Lawrence Road. The city offers traditional souvenirs along with modern brandwear at all locations. There are several shopping places in Amritsar like Cooper Road, Mochi Bazaar, Guru Bazaar and Shastri Market. The bazaars of Amritsar offer a colourful range of traditional and modern wares from carpets, durries, kites, fireworks, bangles, and shawls to cut-glass and woollen textiles.
Hotels in Amritsar
Amritsar is known for its typical Punjabi food, which includes ample non-vegetarian. The hotels in Amritsar are located close to the famous Golden Temple. Every hotel in Amritsar provides comfortable accommodation along with a host of amenities. There are a number of budget hotels in Amritsar, which provide several important facilities.
Find the latest airfares and discounted offers on flights to Amritsar operating from UK.
Preferred Airlines to Amritsar from UK
Air India | Qatar Airways | Turkmenistan Airlines | Uzbekistan Airways
Amritsar Airports Guide
Amritsar Airport Located eleven kilometres from the city-centre is the Raja Sansi International Airport that handles several domestic and international flights every week.
Address: Amritsar International Airport, Rajasansi, Amritsar – 143101. (Punjab) India.
Telephone: Passengers can seek airport information by calling the airport helpline +91-0183-2214166 or by visiting http://www.aai.aero/allAirports/amritsar_generalinfo.jsp
Best time to Visit Amritsar
The best time to visit the Amritsar city is between Novembers to March.
Transport in Amritsar
Local transport includes cars, taxis, local buses, auto-rickshaws and cycle rickshaws, which will easily transport you from the airport or the railway station to the site.