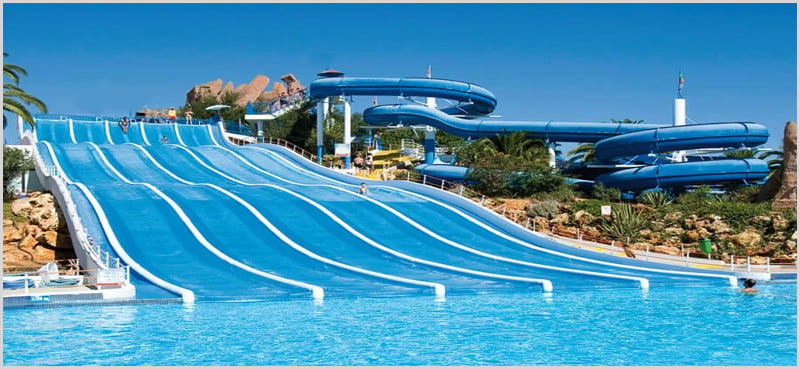 Amusement and Water Parks in Ahmedabad
If you really have not done something really exciting from once you land from your flights to Ahmedabad, then it is time you plan a trip to one of the amusement parks in Ahmedabad. Most of the amusement parks in Ahmedabad are water-based theme parks. An ideal destination for a pleasurable retreat during summers the amusement parks in Ahmedabad are frequented by one and all. Offering something for the likes of everyone the city offers two major amusement parks that form the evident place of interest for most tourists and locals on weekends or holidays,
For the young and the young at heart – after booking your cheap tickets to Ahmedabad one must check out these fun amusement parks in Ahmedabad. You can choose to rest and relax or have adventures all day long with family and friends. There is something for everyone.

Shanku's Water Park is the largest and earliest water park ever built in India and is a popular amusement park destination in Ahmedabad. The most popular water park in Ahmedabad, Shanku Water Park is located at a distance of about one hour from the city. Away from the hustle and bustle of the city, this amusement park is one of the most frequented picnic spots in the region. Different rides are designated for people of different ages. These include drift tours like 'Lazy River' and 'Exciting Tunnels' which take you on a trip through a chilled pool having many twists. Some of the attractions in this amusement park include Lazy River' and 'Exciting Tunnels towering slides, twisting rides, Aqua Tubes, Toy Train, Cable car, Moon Raker, and the most admired rollicking wave pools. This resort also provides sports complex, cottage resorts, hotels, lakeshore gardens, health clubs, and many more amenities.

Swapna Srushti Water Park is unique as it has rides not only for adults but also for children as young as 1 year old. They don't insist on swimming costumes either and that is a welcome relief for many of the adults. It is spread over a vast area of 130 acres and dotted with plants and huge trees. Apart from the various water rides for the kids and adults, all formations of natural water like waterfalls, snowfall waves, and mystic fog have been created for the first time in the history of water parks in the world.
Spreading over an area of 130 acres in the Swapna Shrushti Water Park in Ahmedabad. A theme-based Water Park that apart from the various water rides offers all formations of natural water like waterfalls, snowfall waves, and mystic fog. Visited by locals and tourists alike this amusement park in Ahmedabad provides refreshment and rejuvenation from the daily routine of life. One of the oldest water parks in the city this amusement park is set amidst the beautiful backdrop of palm trees and blue lagoons. Apart from the umpteen water activities, this park is dotted with colored musical fountains that add to the beauty of this place.

Chiti Bang Chiti Bang near Law Garden offers rides – horse rides, camel rides, boat rides for children. A number of rides for kids are available. Having rides followed by lovely popcorn and cotton candy is something that many in Ahmedabad have experience here. At the entrance you also find hawkers selling small games and balloons. Located in the center of the city, this is one of the best getaways for the kids and the family.

The Science City is the initiative of the Government of Gujarat and is one of the most successful ventures of the government. The center has all the state of the art facilities. There is a 30-seater simulator – a ride that provides simulations riding a roller coaster, flying in an aerobatic aircraft, a journey into space, and much more. Also, check out the Musical Fountain here. The water effects move or dance with music and interpret each tune in synchronization with light and sound whether fast or slow. It has more than 20 kinds of water styles including floating fountains, seagulls, chasing waves, peacocks, swinging, and flower baskets. Also, home to an IMAX 3D Theatre the Science City is a great place to spend the day wherever your interests may lie.

Nagina Wadi is the exotic summer palace located in the middle of Kankaria Lake. Inside Nagina wadi is a musical fountain which is organized every evening around 7 pm. The verdant green lawns all around the palace make it soothing to the eyes and a place to relax in.
So book your cheap flights to Ahmedabad and have fun at the amusement parks of Ahmedabad.
https://www.oceanstravel.co.uk/Discover Ahmedabad and its beauty, charm, and history with Oceans Travel. With cheap flights to Ahmedabad made easily available from all UK cities like London to Ahmedabad, Birmingham to Ahmedabad, Edinburgh to Ahmedabad, Manchester to Ahmedabad, and many others to Ahmedabad where you can have a memorable and an affordable trip. There are great flight deals to Ahmedabad available with Air India, Virgin Atlantic, British Airways, Emirates, Etihad Airways, Qatar Airways, and many more. Discover this beautiful place with a cheap ticket to Ahmedabad with Oceans Travel.