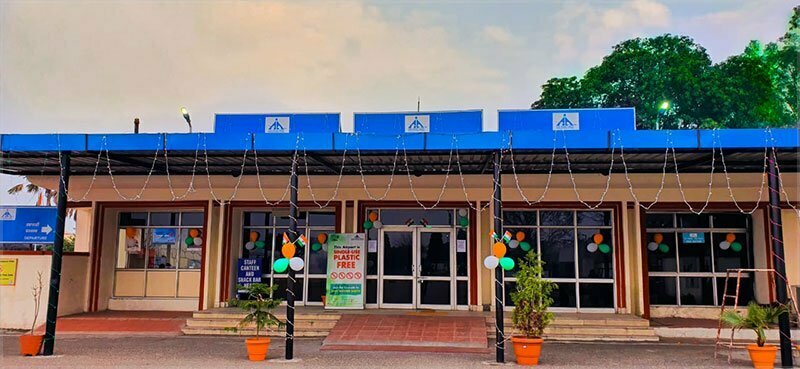 Ludhiana Airport (Sahnewal Airport LUH)
Sahnewal Airport or the Ludhiana Airport as it is more generally known as is 5 km from Ludhiana. It is spread over 130 acres, and has one terminal and a cafeteria, for the convenience of passengers. It is mainly connected with flights to New Delhi.
Ludhiana Airport Information
Sahnewal Airport Address
Sahnewal Airport
NH 1,Near Zimidaran Dhaba
Sahnewal, Ludhiana
Punjab 141120
Inquiries Number: 91 161 284 4569
Overview
Plans of converting Ludhiana into an Aerotropolis are underway. The government had proposed a plan to construct an airport first at Ladhaowal and then it would be gradually expanded to the Halwara air force base for trying to accommodate passenger flights. This will be India's second aerotropolis after the one at Durgapur. The new airport will cover an area of 3,500 acres.
Terminals
The existing airport at Ludhiana has only one terminal which spreads on an area of 130 acres and has the capacity of handling 40 passengers at any time. At present only Air India regional operates intermittent flights to Delhi and Pathankot from Ludhiana. The airport is not always operational because of improper positioning of navigational gadgets and high tension power lines obstructing the installation of the DVOR (Doppler Very High-Frequency Omni-Range) navigation system. Since the airport is not always in service, it provides very basic services like trolleys, wheelchair assistance, and baggage services. There are no shops or snack counters at the airport.
Ludhiana is the largest and one of the most popular cities in Punjab and is famous for its numerous industries. Amritsar airport, Dharamsala airport, and Kullu airport are some of the major airports located very close to Ludhiana.
Flight Information
Currently, direct flights to New Delhi are operated by Air India Regional from the Ludhiana Airport. Several other cities, such as Goa, Mumbai, and Bengaluru are also connected through indirect flights via New Delhi.
Terminals
There is a single domestic terminal with one boarding gate. The total capacity of this terminal is 20 each for arrivals and departures.
Traveling Around
This airport is well-connected to many other destinations with general taxi services easily available in close proximity to the airport. The bus stand is also quite near to the airport and can be reached by taxi.
Services and Facilities
Basic passenger services like trolleys to carry baggage are easily available at Ludhiana Airport.
Things to Do
There is a small eating joint that serves light snacks and beverages within the airport premises. Passengers can grab a quick bite and spend some time at the eatery while they await their flights.
Hotels
Affordable stay options, such as Grand Star, Aveda Hotel, are located in close proximity to the airport. Luxury hotels, such as Radisson Blu, Aditya Hotel, Hyatt Regency, Fortune Park Klassik, Imperial Executive, and A'Hotel Ludhiana have also located a short distance from the airport.
Tips for Fliers
Ludhiana is home is to several religious tourist destinations so observe the rules of decorum at such places.
Only change your currency at authorized vendors, to avoid being duped.
Nearby Attractions
There are several tourists attractions in this Indian city. Some of these include Nehru Rose Garden, Guru Nanak Sports Stadium, Rural Museum, Maharaja Ranjit Singh War Museum, Guru Nanak Bhawan, Gurdwara Charananwal Sahib, Tiger Safari, and Hardy's World Amusement Park. Other destinations that are also worth visiting include Gurdwara Alamgir Sahib, Deer Park, Gurdwara Manji Sahib, and the Water Resource Museum.
Other notable sites include the Pir-I-Dastgir Shrine and Sanglan Wala Shivalaya Mandir. The Pir-I-Dastgir The shrine is a tomb dedicated to the famous Muslim saint Abdul Kadir Galani and is situated within the Ludhiana Fort. Sanglan Wala Shivalaya Mandir is dedicated to Lord Shiva and is 400 years old.
Ludhiana Bazaar is a great destination for shopping enthusiasts and while being modern it still retains its old-world charm. The primary market is Chura Bazaar, where you can not only make interesting purchases but also indulge in some window shopping. The Ghumar Mandi Road is another great shopping location where you will find several items of interest like exotic saris, jewelry, and lots more.
If the way to your heart is through your tummy, make it a point to visit the Sarabha Nagar market. The area is brimming with cafes, bakeries, restaurants, and even pizza outlets. While in the city also make it a point to try out the local lassi, as Punjab is known for both the sweet and salty variations of this drink.
Oceans Travel allows you to find the cheapest flights to Ludhiana airport without having to enter specific dates or even destinations, making it the best place to find cheap flights for your trip to Ludhiana airport.