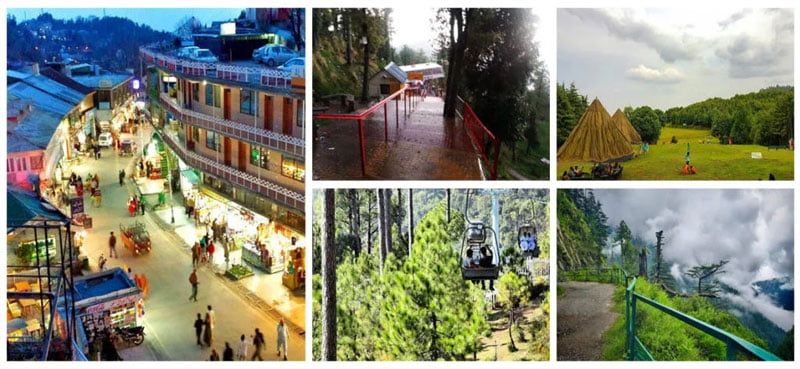 Murree the most popular hill station and summer resort in the country is a tehsil of district Rawalpindi. It is been visited by tourists all around the year either to enjoy the cool summers or the snowy winters.
The name Murree is derived from 'marhi' "high place" although there is a popular belief it was named after the Virgin Mary during British times. When the British annexed Punjab in 1849, they soon decided to establish a hill station at Murree conveniently located near the important military cantonment of Rawalpindi. It was actually founded in 1851 on the pastureland of a ridge and developed quickly. Today Murre is Punjab's leading hill station attracting domestic and foreign visitors. The long summer days are ideal for lazy strolls between Kashmir and Pindi points. The famous tourist destinations are Mall road, Kashmir point, Pindi point, Patriata, and Bhurban.
Mall Road

Murree's Mall Road is a famous stretch of the road having a number of shops and restaurants. It's popular among people around the country and tourists all over the world. Mall Road is the busiest part of Murree where visitors love walking while doing shopping and buying from handicrafts to dry fruits and from shawls to shoes.
Pindi Point
Pindi Point is one of the first spots to visit in Murree. It is about 15 minutes walk from the center of the Mall. It is called Pindi Point because from here you can have a panoramic view of the twin cities of Rawalpindi and Islamabad. Chairlift ride down to 1.5 km from Pindi Point to Bansara Gali passes through nice scenery and lush green trees.
Kashmir Point
Kashmir Point is about 15 minutes upward walking from GPO, the center of Mall Road. You will also go through Cadet College Murree which goes from the Murree Residence area. Kashmir Point is the top point of Murree city from where you can enjoy breathtaking views of Kashmir Hills and beautiful vistas of nature. Here, also have the opportunity to take a ride on TDCPs soft wheel train driving through zigzag scenic roads.
Patriata
Patriata is also known as New Murree is a hill station in northern Punjab, Pakistan. It is situated 15 km south-east of Murree hill. Patriata is located in Murree Tehsil which is a subdivision of Rawalpindi District. It is the highest point in the area and the hills stand 7500 feet above sea level.
The hill station is a tourist location as the climate here is much cooler than further south. There is a chair lift and cable car system for going to the highest point. The area is heavily forested and there are many monkeys and leopards in the area. and hub for tourism due to cramming and over-saturation in main Murree.
Bhurban
Bhurban has located 9 km from the city of Murree in the heights of Murree Hills. At Bhurban you can relish fun-filled activities where you can experience the per stein scenery from a panoramic view while playing golf, dining out, or heedfully auricularly discerning musicians. There are many comely hotels with terraces where you can relish breathtaking views after which you can relish exquisite cuisine at its finest. Nice buffets are available and musical concerts with Pakistani singers integrate into memorable fun-filled nights. Relish one of the major Golf tournaments that are held here and have fun playing golf on Bhurban's first-class nine aperture mini-golf course. A wide variety of animal life not found anywhere else in Pakistan is found in the area that circumvents Bhurban.
Weather
Weather is a source of income for the economy of Murree. Spring in Murree starts in March with heavy rain and hail storms and ends in May. Summer spans from the middle of May to August. The lowest temperature during this season is between 13 and 16 while the highest temperature is between 20 and 25. It is the most crowded season as it brings the most number of tourists. Autumn starts with September and winter with December. Winter brings heavy snowfall and the temperature lies around the freezing point.
Language
The Dialect spoken in Murree is locally known as Pahari and it is very much similar to the dialects Potohari and Hinko spoken in some regions of Rawalpindi and Hazara.
To discover this beautiful city, Oceans Travel offers you the best deals on cheap flights to Pakistan and provides you with the most comfortable trip. To avail of our expert travel service and book your cheap flights to Pakistan and for more information, visit our website at https://www.oceanstravel.co.uk.