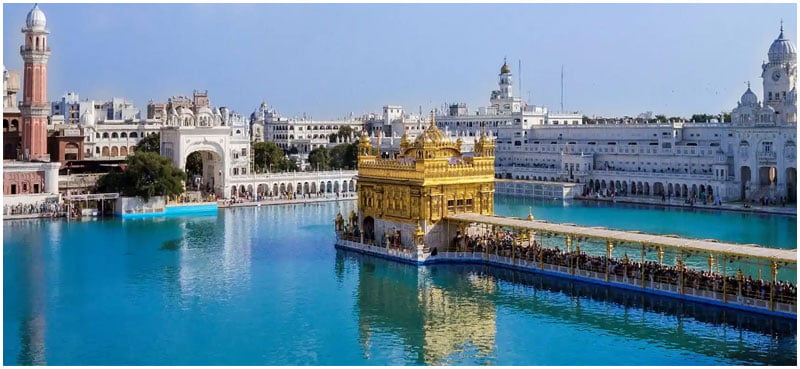 Places to Visit in Punjab
Punjab is also known as the "Land of Five Rivers." It is known for its religious diversity as well as being one of the oldest cities in the world. There are lots of places to visit in Punjab, that's for sure.
1. Chandigarh. This is the first planned city of India after the Indian independence. You can find Chandigarh at the foot of the Shivalik Ranges. It also has a favorable climate all year round. Here are some of the attractions in Chandigarh.

Rock Garden Just nearby Sukhna Lake, you'll find the Rock Garden. It was created by Nek Chand and it's a garden landscaped with several sculptures and potteries of dancers and animals.
Zakir Hussain Rose Garden The largest rose garden in Asia although you'll find some medicinal herbs here as well.
Yadavindra Gardens The garden has several structures depicting Mughal and Rajasthani architectural styles.
Mahendra Chaudhry Zoological Park This park is famous for its lion safari. But you can find some rare species of other animals here as well.
Museum and Art Gallery Features collections of items as far back as the Indus Valley Civilisation. There are also Dinosaur Fossils here that were extracted from the region.
2. Jalandhar In the Mahabharata, this place was referred to as Prasthala. This is also one of the oldest cities in India. Some places to visit are as follows.

Imam Nasir Masjid This is about an 800-year old mausoleum already. It was said that Sufi Saint Baba Farid visited this before.
Tulsi Mandir Nearby to the maunder, you'll find a tank where it is said that Jalandhara used to bathe in. And a temple dedicated to Goddess Annapurna can also be found nearby.
Shaheed-E-Azam Sardar Bhagat Singh Museum This contains items owned by the freedom fighter Sardar Bhagat Singh name.
Wonderland Theme Park This has rides, a water park, and even a wave pool.
3. Ludhiana Located on the banks of the Sutlej River, this is the largest city in Punjab. This city was a major part of the 1857 uprising against the colonisers. The best attractions here are:-

Gurudwara Charan Kamal Gurdwara Charan Kanwal at Machhiwara marks the site of the garden where Guru Gobind Singh had a sip of water and a spell of brief sleep. It was here that his three devotees Bhai Mani Singh, Bhai Daya Singh, and Bhai Dharam Singh joined him. The sacred shrine commemorating the historical event has a beautiful building, worthy of the holy tradition. An annual congregation fair is held in December, corresponding to the 9th & 10th of Poh, the days of Guruji's stay at Machiwara.
Lodhi Fort Built by a Muslim ruler named Sikandar Lodhim, this majestic fort is in ruins now.
Maharaja Ranjit Singh Museum A great place for learning about the history of Ludhiana.
Tiger Zoo One of the most famous attractions in Ludhiana, you can ride a jeep to watch tigers from outside.
4. Bhatinda This is already a 3,000-year-old city. It's a city very rich in culture, heritage and tradition. Places to visit are:

Quila Mubarak One of the oldest forts in Punjab, this fort has been around since the Kushana Kingdom under Kanishka.
Bhatinda Lake is A great place for relaxing and there are some eateries around the lake as well.
Bir Talab Zoo This is home to many rare species of animals.
5. Pathankot This is the meeting place of Punjab, Jammu & Kashmir, and Himachal Pradesh. Some attractions here are:

Mukteshwar Temple Located on the banks of River Ravi, this is a temple dedicated to Lord Shiva.
Nupur Fort Also known as Dhameri Fort and it has a temple inside it. The temple is the only one where Lord Krishna and Meera Bai are both worshipped.
Shahpurkandi Fort This provides amazing views of the city.
Discover this beautiful city and its beauty, charm and history with Oceans Travel. With cheap flights to Amritsar made easily available from all UK cities like London to Amritsar, Birmingham to Amritsar, Edinburgh to Amritsar, Liverpool to Amritsar, Manchester to Amritsar and many others to Amritsar  where you can have a memorable and an affordable trip. There are great flight deals to Amritsar available with Air India, Virgin Atlantic, British Airways, Emirates, Etihad Airways, Qatar Airways and many more. Discover this beautiful place with a cheap ticket to Amritsar with Oceans Travel.