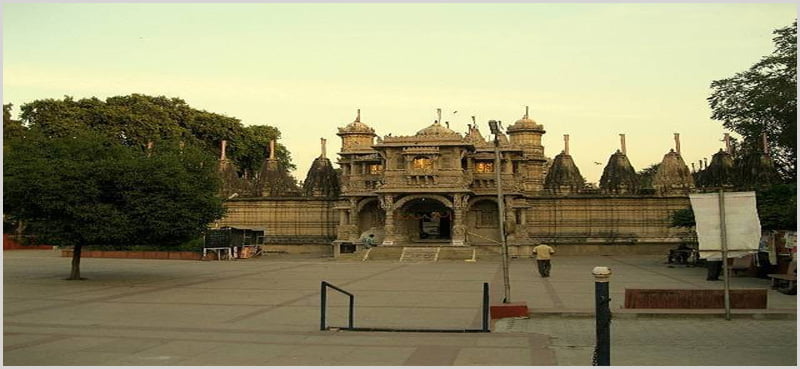 Calico Museum in Ahmedabad
Ahmedabad's captivating blend of medieval and contemporary history is punctuated by its many remarkable attractions. Whether it's the famed textile museum at the north of Delhi gate or the ashram that housed Gandhi himself, Ahmedabad is positively rich with culture and history.
The tourist attractions in Ahmedabad often referred to as the "Textile City" and the "Manchester of the East" is a curious mixture of the ancient heritage and the vibrant modernity. For this reason, many avail cheap flights to Ahmedabad to see the attractions of Ahmedabad. Ahmedabad is replete with numerous tourist attractions, ranging from quaint monuments to famous religious sites to romantic lakes to amusement parks. The city has a rare style of architecture, known as the Indo-Saracenic style of architecture, which is a harmonious blending of Hindu and Islamic styles.
Book a flight to Ahmedabad and see why Ahmedabad is steeped in history and how one of the eminent tourist attractions in India, offers a host of tourist sites that present themselves as some of the most frequented tourist attractions in Ahmedabad. The glorious past of the city bearing various political and cultural facets draw huge crowds every year and so why not book a cheap ticket to Ahmedabad and explore Ahmedabad.
Calico Museum of Textiles in Ahmedabad is one of the finest museums in the world. Founded by Ms. Gira Sarabhai, the museum exhibits an enormous collection of fabrics, which are collected from all over the country. Situated in the vicinity of Shahibaugh Palace, the museum is bordered by lush green gardens and fountains that provide an enchanting view.

Established in the year 1949 AD, the museum has a large variety of woven fabrics. A wide array of clothing is available, ranging from religious clothes to the ones that are worn in the royal courtrooms. Differing in quality and price range, there is something for every visitor. Popular works include sequins, mirrors, beads, silk threads, etc. The unique feature of this museum is that here you can even find the fabrics that can be traced back to the times of the seventeenth century.

Though the name in itself is suggestive of the fact that the museum houses textiles, but in reality, it also contains furniture and various kinds of crafts gathered from different parts of the country. Images made from sandstone, marble, and bronze that can be found here are always in demand. The museum has two separate sections for textiles, one is meant for religious clothing and the other section consists of the historic textiles. The Calico Museum of textiles is definitely worth a visit.
The Calico Museum of Textiles is undoubtedly one of the foremost textile museums and a celebrated institute in Indian textiles around the world and many book flights to Ahmedabad to see this fascinating collection. Its remarkable collection of fabrics spanning varied and remote regions of India exemplifies handicraft textiles across five centuries. The textiles were collected with a vision to conserve, built awareness, and empower the vast and deep textile heritage of India. Over the years the collection has grown into an outstanding repository of fabrics based on colors, pattern, weave, and embellishment and has become a recognized center providing Indian and international scholars an opportunity to study and draw in-depth knowledge on this extraordinary range of Indian ethos. The Museum inspired by Dr. Ananda Coomaraswamy was formally housed in 1949 by Shri Gautam Sarabhai and his sister Gira Sarabhai in the large industrial house of Calico. In 1983 it was moved to the beautiful Retreat premises of the Foundation in the Shahibaug area.

The Sarabhai Foundation started in 1959 by Smt. Sarladevi Sarabhai and Shri Ambalal Sarabhai, is a non-profit devoted, among other things, to the 'promotion of science, art, and literature'. With a view of preserving and interpreting the cultural heritage of India, in recent years the foundation has also been holding workshops to sensitize museum and university scholars to look at art afresh and more closely. Even if you are not interested in textiles or art, still a visit to the museum is worth it for its ethnic Gujarati haveli architecture and the idyllic calm beauty of the surrounding nature. So book your tickets to Ahmedabad and explore this beautiful attraction.
Discover Ahmedabad and its beauty, charm, and history with Oceans Travel. With cheap flights to Ahmedabad made easily available from all UK cities like London to Ahmedabad, Birmingham to Ahmedabad, Edinburgh to Ahmedabad, Liverpool to Ahmedabad, Manchester to Ahmedabad and many others to Ahmedabad where you can have a memorable and an affordable trip. There are great flight deals to Ahmedabad available with Air India, Virgin Atlantic, British Airways, Emirates, Etihad Airways, Qatar Airways, and many more. Discover this beautiful place with a cheap ticket to Ahmedabad with Oceans Travel.