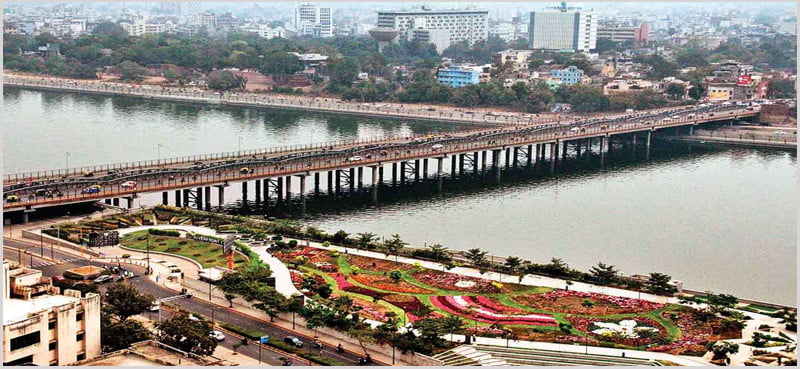 Cultural and Heritage of Ahmedabad
Ahmedabad offers breathtaking locations and scenic landscapes. It is also a melting pot of several civilizations resulting in a vibrant culture and a rich heritage, many travelers' book cheap flights to Ahmedabad, to visit the religious and historical attractions of Ahmedabad. Gujarat is home to several architectural marvels, witnesses of its glorious history, and pilgrim centers for many faiths. Finally, it is also the land of several mythological and historical figures like the legendary Krishna and Mahatma Gandhi, the apostle of non-violence.
Ahmedabad – "the Manchester of the East" has a diversified culture where people from all walks of life participate in the cultural race from dance-drama to food and festivals. Ahmedabad is a living city with its architectural landscape based on Indo-Saracenic style. The gentle and peace-loving people of Ahmedabad have made this city a dynamic place for living and exploring.
Ahmedabad is a living city with its architectural landscape based on Indo-Saracenic style. The gentle and peace-loving people of Ahmedabad have made this city a dynamic place for living and exploring, so why not avail great offers and book cheap tickets to Ahmedabad.

Ahmedabad is a mix of ancient and modern culture with a large number of architectural monuments, mosques, temples, and high-rise offices. The city offers a unique style of architecture, which is a blend of Hindu and Islamic styles (Indo-Saracenic style of architecture). A part of Ahmedabad is known for its folk art and crafts. Intellectuals from different parts of Gujarat have been migrated to the city due to its literary institutions for the promotion of Gujarati literature.
The city of Ahmedabad prides itself on its exotic culture. It is a land of safaris and the arts, of pristine natural landscapes and rustic neighborhoods. One of the city's greatest strengths and most attractive qualities is its ability to merge the old and new worlds and in particular its unique religious and cultural traditions with modern-day celebrations. As a result, this Indian city is a Mecca for visitors who are looking for an exciting and unique travel destination.
The history and culture of Gujarat have its roots in its religion. The fairs and festivals celebrated here, have religious significance for its people. Joyous environment, colorful dresses, devotion, and love for the deities, this is what signifies festivals for anybody residing at Ahmedabad.
The city becomes a sparkling place when there is any fair or festival being celebrated and many buy tickets to Ahmedabad to celebrate these festivals. The kite-flying Festival (Uttarayan) is celebrated on January 14 every year. The nine nights of Navaratri are celebrated in a traditional manner with people performing Garba at pre-arranged venues, which is the folk dance of Gujarat. The religious festivals like Deepavali, Holi, Eid ul-Fitr, and Christmas are celebrated with great enthusiasm.
Many of Ahmedabad's most popular festivals revolve around the many beautiful temples that dot the city. The Chariot Festival, known locally as Rath Yatra, is a popular eight-day event that showcases this marriage of modern celebration with religious and cultural tradition. Thousands of participants flood the Temple of Jagannath each summer and make the week-long pilgrimage between two of the city's temples as a devotion to the Lord Jagannath. The chariot festival is meant to celebrate the Indian god's journey home, re-enacting one of their religious stories through the chariot rides and the celebration that it merits. Daily flights to Ahmedabad are available to this ancient and fascinating destination throughout the year.
Discover Ahmedabad and its beauty, charm, and history with Oceans Travel. With cheap flights to Ahmedabad made easily available from all UK cities like London to Ahmedabad, Birmingham to Ahmedabad, Edinburgh to Ahmedabad, Manchester to Ahmedabad, and many others to Ahmedabad where you can have a memorable and an affordable trip. There are great flight deals to Ahmedabad available with Air India, Virgin Atlantic, British Airways, Emirates, Etihad Airways, Qatar Airways, and many more. Discover this beautiful place with a cheap ticket to Ahmedabad with Oceans Travel.