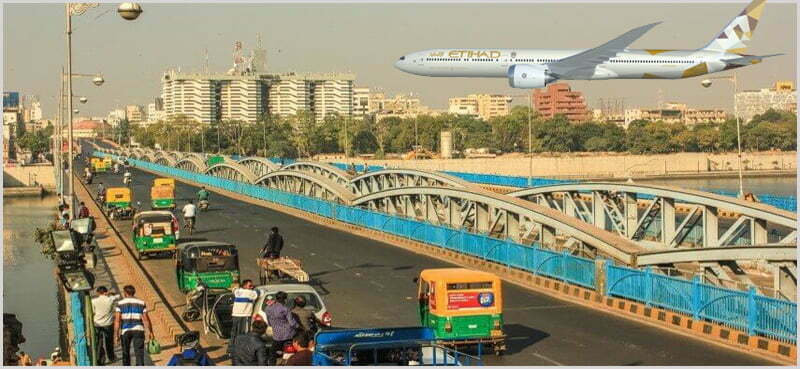 Etihad Airways to Ahmedabad
Etihad Airways flights to Ahmedabad operate daily from Heathrow and Manchester to Ahmedabad via Abu Dhabi. Ahmedabad is the airline's ninth destination in India.
Etihad's new service flights to Ahmedabad will offer nearly 1,000 seats a week into the Gujarati city of Ahmedabad. With daily cheap flights to Ahmedabad, the largest city in the state of Gujarat, Etihad connects you to one of India's major cultural and political centers. If you are visiting the city for holidays or business, choose to travel in supreme comfort with Etihad Airways flights to Ahmedabad.
A bustling metropolis that straddles the Sabarmati River, Ahmedabad offers a mix of both old and new India. The largest city in the state of Gujarat, Ahmedabad is home to thriving textiles, chemical, and IT industries. A city where skyscrapers exist alongside centuries-old mosques and monuments, Ahmedabad is considered a popular stopping point for travelers making their way to Mumbai and Rajasthan.
Visitors to Ahmedabad will not find themselves short of attractions as the city is packed with things to see and do throughout the year. From superb museums and busy night markets to fine restaurants and striking architecture, tourists will find much to enjoy.
To gain an idea of the city's place in history, take a trip to the Sabarmati Ashram on the west bank of the Sabarmati, Gandhi's headquarters during the struggle for Indian independence. The City Museum gathers together Ahmedabad's historical strands of religion and the fight for independence, presenting it in a Le Corbusier building for the public to explore.
After a day of sightseeing, enjoy the beauty of one of Ahmedabad's beautiful parks, such as the popular Victoria Garden. While you're visiting the parks, don't forget to visit the Law Garden night market, a real Indian shopping experience. Browse the many colourful stalls to find everything from saris to costume jewellery.
Flights to India are increasingly popular for travelers who want to savour the distinct hospitality and world-class infrastructure that this captivating country offers. Choose Etihad Airways, the National Airline of the United Arab Emirates, for flights to Ahmedabad on which you will be travelling in comfort and style.

Etihad Airways offers three guest travel classes – Diamond First Class, Pearl Business Class, and Coral Economy Class. Fly on brand new aircraft, with the latest in-flight entertainment systems, the finest dining, and impeccable service.
Discover Ahmedabad and its beauty, charm, and history with Oceans Travel. With cheap flights to Ahmedabad made easily available from all UK cities like London to Ahmedabad, Birmingham to Ahmedabad, Edinburgh to Ahmedabad, Manchester to Ahmedabad, and many others to Ahmedabad where you can have a memorable and an affordable trip. There are great flight deals to Ahmedabad available with Air India, Virgin Atlantic, British Airways, Emirates, Etihad Airways, Qatar Airways, and many more. Discover this beautiful place with a cheap ticket to Ahmedabad with Oceans Travel.