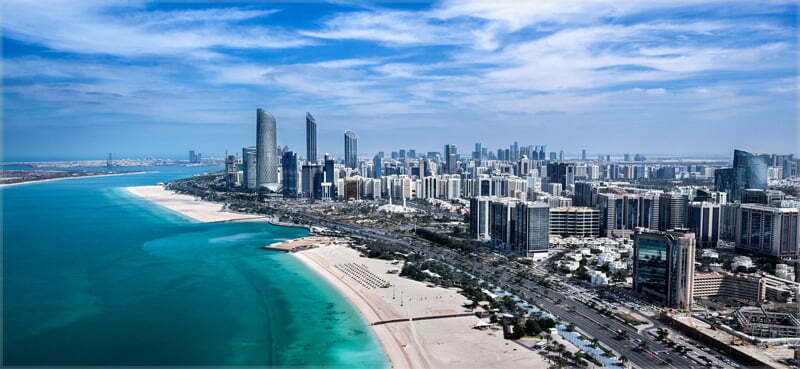 Things to Do In Abu Dhabi
Discover some of Abu Dhabi's gems, from magical gardens to breathtaking mosques. Ideal for a winter sun holiday, Abu Dhabi has a range of luxurious hotel resorts, beaches, and places to relax.
This fascinating city is the capital of the UAE, so if you've already ticked Dubai off your holiday bucket list then why not give Abu Dhabi a try?
Sheikh Zayed Grand Mosque
UAE is well-known for its architectural feat. Apart from the skyscrapers, the design of the mosques is alluring and stands testimony to the architectural excellence of the country. Culture and elegance meet at the mosques in the UAE, and Sheikh Zayed Grand Mosque is one of the most beautiful mosques here.
Sheikh Zayed mosque is one of the largest mosques in the world and will attract all eyes at first glance. The mosque looks stunning in glossy white with numerous domes. Its design was inspired by the Persian and Mughal architecture. The pillars of the mosque are embellished with golden designs contributing to its flamboyant appearance. It took 11 years to complete the mosque.
Everyone who visits UAE often includes it in their bucket list. Apart from its beauty, the mosque traces the incredible traditions in Islam. Another advantage is that you will have free entry along with guided tours. The mosque is open to all, so non-Muslims can enter without a second thought.
Sheikh Zayed Grand Mosque was named after the late Sheikh Zayed bin Sultan Al Nahyan, the first ruler of the UAE. The mosque is the result of his vision and epitomizes the Islamic message of peace, tolerance, and diversity. His burial space is located right next to the mosque.
There are enough reasons to visit Sheikh Zayed Grand Mosque, and you cannot stop taking pictures as every detail is picture-perfect and mesmerizing. So, let's see the distinct features of the grand mosque that made it popular around the world.
Umm Al Emarat Park
Nestled in the city center, Umm Al Emarat Park in Abu Dhabi is one of the oldest parks in the city. Originally known as Mushrif Park, Umm Al Emarat Park has a prime location — it's located on 15th Street between Karamah Street and Airport Road the latter of which connects to the whole city.
The park is designed to honor Sheikh Zayed Bin Sultan Al Nahyan. A conservationist at heart, Abu Dhabi's former ruler worked tirelessly on preserving the environment and species native to the UAE. As a testament to his legacy, this famous public park in Abu Dhabi features everything from botanical gardens to an animal barn and acres of lush green foliage.
Here are a few things you need to know about Umm al Emarat Park in Abu Dhabi.
The best thing about this park? It's open every day. Regarding Umm Al Emarat park entry fee and location, here is what you should know before visiting the place:
Opening Hours: 08:00 am to 12:00 am
Ticket Price: AED 5 per adult
Address: 15th Street, Mushrif Area, Karama — Abu Dhabi— UAE
Pets Allowed: No
Single person entry: Yes
Being a large park, it can be difficult to navigate through this park, so we recommend getting your hands on one of the Umm Al Emarat maps to find your way through the many attractions.
Of course, what's a park without attractions for the whole family to enjoy? Without further ado, here are all the exciting things to do in Umm Al Emarat Park that make it a great option for families.
There is something for everyone at the park. From observations of exotic animal species to theatrical performances, here is what you can look forward to during a visit to Umm Al Emarat Park in Abu Dhabi.
The Amphitheater is one of the top attractions at Umm al Emarat Park Abu Dhabi. Facing the Entrance Pavilion, The Amphitheater is a magnificent theatre stage. You may find performances like cultural dances, music performances, plays, community theatre performances, and even screenings for movies or sporting events. The grassy area in front can accommodate up to 2500 people, so popular performances are sure to be a blast.
Louvre
A museum designed to house the aesthetic expressions of different civilizations and cultures, from the most ancient to the best in contemporary artworks.

Born of an agreement between the governments of Abu Dhabi and France, Louvre Abu Dhabi will display art, manuscripts, and objects of historical, cultural, and sociological significance. Spanning millennia, the items on display will originate from societies and cultures all over the world, but universal themes and common influences will be highlighted to illustrate similarities arising from shared human experience transcending geography, nationality, and history.
Warner Bros World
The UAE's newly launched indoor theme park Warner Bros. World situated in Abu Dhabi possesses 29 enthralling rides. Spread across more than 1.65 million sq. m. on Abu Dhabi's Yas Island, this new attraction is the largest and the first indoor theme park on the planet.

You'll be transferred to the terrains of your favorite characters through a stand-out immersive activity when you set foot on the notorious Warner Bros theme park. In this park, everybody will return to their carefree childhood days spent with comic books and cartoons.

Warner Bros World has brought the fantasy world to life for you with this theme park. Those offbeat characters and thrilling rides can all be found here to keep you entertained throughout the day.

The theme park is quite sophisticated and takes the visitors on replicated experiences utilizing high-end technology such as virtual reality, robotics, and artificial intelligence. The Warner Bros World includes six immersive lands, namely, Gotham City, Metropolis, Cartoon Junction, Bedrock, and Dynamite Gulch. This part off from the central Warner Bros Plaza which projects movies on the walls, and boasts with shops. The stores here sell various merchandise exclusively created for Warner Bros World.

Every division of Warner Bros World Abu Dhabi features various restaurants, cafes, and takeaway outlets based on the themes of superheroes and cartoons. There are plenty of venues offering a delectable and wide assortment of cuisines to the visitors. You won't go hungry from this place as every section has its own kind of themed eateries, cafes, restaurants, or grab and go options.

The popular ones are the old Hollywood charm of The Starlight, the dazzling restaurant of Celebrity Scoop, the Italian-themed Hollywood Trattoria, and much more. Each place has its own specific kids' meal alternative as well.

Also, on-site ATMs are available at the ticketing plaza located near the entrance. Trip to Warner Bros. World Abu Dhabi is all about the fun with family or friends! This place is definitely going to keep both tourists and citizens charged all through the day. Numerous people flock to the rides here and return with a good heart.
Ferrari World Abu Dhabi
Lovers of red, fast, and shiny Ferrari get ready to rock on for some more entertainment with the Ferrari World. Yes, you heard it right. Ferrari World of Abu Dhabi gives you complete liberty to bring in your family for some thrilling fun and entertainment. Ferrari World of Abu Dhabi is one of the biggest amusement parks in the world. Locals love to take rejoicing off from all their hectic schedules at this Abu Dhabi's popular getaway location. Ferrari World offers you a chance to smash your own land speed records.

Right from rides to attractions to events, Ferrari World has got everything to engage you throughout your visit. Speed of Magic, Tyre Twist, and Made in Maranello, The Racing Legends, and Paddock are some worthy attractions of Ferrari World. These are engineered in such a way that it raises the overall level of your craziness for Ferrari. Ferrari World authorities are sure to leave you spellbound with their live performances and shows.

Throughout 365 days of the year, Ferrari World organizes different shows and performances featuring optical illusions, acrobats, gravity-defying stunts, and lots more. If you think that's all that your Ferrari World has got to offer, wait for the time when you feel hungry. The food outlets here serve the best quality local and international cuisines.

While you are about to leave this wonderland, do not forget to pack your bags with some excellent souvenirs. Right from Italian fashion accessories to Ferrari memorabilia, you have a plethora of things to carry back!
Abu Dhabi is an eternally popular destination and indeed a mini-universe by itself, promising to leave you mesmerized. So come and discover it with us, where you can sit back, relax, and enjoy the sights & sounds With cheap flights to Abu Dhabi made easily available from all UK cities like London, Birmingham, Edinburgh, Manchester, and many others there are great flight deals to Dubai and Abu Dhabi available with Etihad Airways, Emirates, and many more. Book your cheap ticket to Abu Dhabi with Oceans Travel.