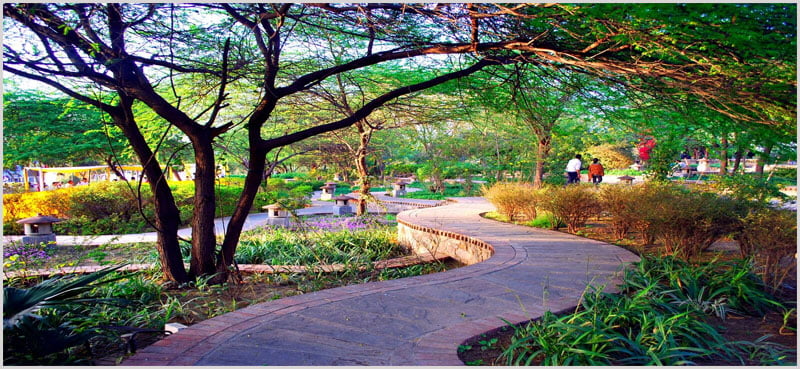 Delhi is truly coming up as a destination of greenery. The city's mains lungs are the northern and southern areas of the Ridge. Some portions of the ridge have been landscaped and concerted into parks.
Nehru Park- near Ashoka Hotel in Chanakyapuri is another well landscaped garden, full of flowering shrubs. A group of three enormous trees provides a focus on the lawn near the statue of Lenin. with rolling lawns, magnificent trees, flora and fauna at its best, Delhi truly is a city of parks and gardens.
Lodhi Gardens used to be the burial ground of Lodhi Kings. Today the place is a highly favored spot for the citizens of the capital for picnic, jogging, leisured activities and winter ambling.
Garden of Five Senses– A spectacularly designed picturesque site developed in 20 acres located at Said-ul-Ajaib in southern part of Delhi around 2 kms away from Qutub Minar. This garden is an amalgamation of colour, fragrance, texture and form with a unique chime of 500 bells producing soothing sounds in its background. This Garden is the latest addition to Delhi's cultural circuit. The place has numerous attractions and challenging programmers like annual garden Festival, Longest Dandiya Nasti, Yoga Camps, Fashion Shows etc. garden of Fives Senses featured in the Limca Book of Records in 2004 for its unique concept of Solar Energy Park.
Deer Park– A paradise for morning walkers, has picnic huts, approachable from Hauz Khas Village. it is near the Delhi Lawn Tennis Association.
Zoological Garden– Designed by the west German zoo specialist, Hergenbeck. it is between Purana Quila and Hunayun's Tomb. Closed on Fridays.
Millennium Park- Located near Sarai Kale Khan Behind Humayun Tomb, Spread in around 20 acres, this park provides lusty green and peaceful environment to the people.
Ashola Wildlife Sanctuary– Immediately after the Ghiyassuddin's Tomb, towards the south, is one of the most beautiful drives in Delhi with lust greenery and pink bougainvillea bushes on both sides. Along the road is the entrance to Sanctuary, which covers an area of 26 sq.km. Though not much wildlife exists in Ashola, it is full of all kind of birds and smaller animals.
Suraj Kund – Along the road, just beyond the Delhi- Haryana border, set amidst the barren and rocky landscape, is Surajkund with a man made lake nearby. Every year a Crafts Fair is held here, which attracts tourists from all parts of India and abroad.
Sultanpur Bird Sanctuary– House of numerous migratory birds in winter. Best time to visit November- February and its 46 km from Delhi.
Badhkal Lake- A Popular picnic spot, it has facilities for water sports.