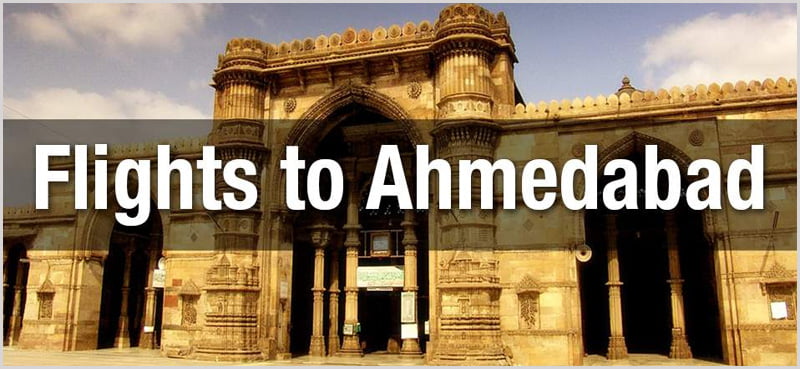 Passengers arriving on flights to Ahmedabad can enjoy textiles, thalis, and temples courtesy of the city's industrial heritage, excellent restaurants, and striking architecture. Discover why Ahmedabad is called the Manchester of the East, see mosques and temples standing side by side, and visit the source of Mahatma Gandhi's peaceful protests, after Ahmedabad flights.
As the largest city in the state of Gujarat, there are many reasons to travel to Ahmedabad. With airfares to Ahmedabad more affordable than ever, you can follow in the footsteps Muzaffarid dynasty, the Mughals, the Marathas and the British.

Indeed now with a direct flight to Ahmedabad – London to Ahmedabad – Ahmedabad flights are very accessible, making this both an interesting and worthwhile place to visit.
Originally the city was founded in 1411 by Sultan Ahmed Shah from whom it takes its name. It has grown considerably in the intervening years and was for a time the capital of Gujarat. Nowadays many people take advantage of the budget flights to Ahmedabad in order to pick up bargains on textiles for which the city is famous. So famous in fact that it earned the nickname of "Manchester of the East" although perhaps these days Manchester might like to have even a fraction of the textile industry that Ahmedabad has!

Take flights to Ahmedabad, the jewel of Gujarat, and discover fine examples of Muslim and Jain architecture and beautifully decorated mosques. Ahmedabad is considered by many to be the finest city in India before the arrival of Delhi. Ahmedabad boasts, on the one hand, the five-hundred-year-old Jama Masjid mosque and on the other, the Mill Owners' Association building designed by Le Corbusier.
With cheap flights to Ahmedabad, you can visit Mahatma Gandhi's ashram on the banks of the Sabarmati River. Relive the fascinating story of his defiant call for independence and tour the small house where he lived. His Ahmedabad home is now a national monument. Ahmedabad flights will also take you within reach of banyan-lined rivers and the palm-fringed coast of the Gulf of Khambhat, site of an ancient underwater city that archaeologists say could rewrite history.
Fly Emirates to Ahmedabad and discover the textiles, temples, and thalis of India's fast-growing and prosperous city, Book Emirates flights to Ahmedabad, and experience the award-winning service to one of India's fastest-growing city.
Emirates offers twice-daily flights to Ahmedabad from each of the UK's to major airports, Emirates London Heathrow to Ahmedabad, Emirates Manchester to Ahmedabad, Emirates Birmingham to Ahmedabad, Emirates London Gatwick to Ahmedabad, Emirates Newcastle to Ahmedabad and Emirates Glasgow to Ahmedabad via Dubai using a state-of-the-art fleet. Discover Emirates' comfortable inflight offerings on Ahmedabad flights, which include luxurious sleeper seats in Emirates First Class, spacious sleeperettes in Emirates Business Class, and extra-legroom in Emirates Economy Class. All classes feature Emirates' on-demand inflight entertainment system offering hundreds of movies, television, and music channels, making flights to Ahmedabad fly by.
Fly with Qatar Airways from London to Ahmedabad or Qatar Airways from Manchester to Ahmedabad. Oceans Travel offers the best deals on Qatar Airways flights to India, including Qatar Airways flights to Ahmedabad. Qatar Airways passengers flying from UK, Heathrow Airport, and Manchester Airport to Doha have excellent onward connections to Ahmedabad. The airline is operating daily routes from Qatar's capital city using a two-class Airbus A320.
Fly with Qatar Airways to Ahmedabad and discover why their Economy Class was awarded "World's Best" at the Skytrax World Airline Awards. Qatar Airways is committed to providing you with the highest level of comfort throughout your journey. Qatar Airways has an award-winning cabin crew, in-flight entertainment, and fantastic food & beverage services which is what sets them apart.
Book Air India flights to Ahmedabad at the lowest airfares. Get great booking deals for Air India Ahmedabad air tickets at the cheapest prices. Fly from London Heathrow to Ahmedabad with Air India and avail great all year round deals.
Compare cheap flights to Ahmedabad with all Airlines, and avail discount airline tickets to Ahmedabad India from all major UK airports with Emirates, Etihad Airways, Finn Air, Gulf Air, Lufthansa Airline, Oman Air Qatar Airways, and many other major airlines
You can get a return economy class cheap flights to Ahmedabad easily available with all major Airlines and there are amazing deals on First and Business class available for tickets to Ahmedabad. You can easily find the best deals on airfares to Ahmedabad with Oceans Travel.
So whether you are coming to see the magnificent Bhadra fort (founded by Sultan Ahmed Shah himself), to visit the minarets of the Jhulta Minar mosque, or just to pick up bargains on your textile shopping, with cheap tickets to Ahmedabad, you will be there sooner than you think. With Oceans Travel, booking is simple. You are just a few clicks away from discovering the beauty, charm, and history Ahmedabad. Discover Ahmedabad and its beauty, charm, and history with Oceans Travel. With cheap flights to Ahmedabad made easily available from all UK cities like London to Ahmedabad, Birmingham to Ahmedabad, Edinburgh to Ahmedabad, Manchester to Ahmedabad, and many others to Ahmedabad where you can have a memorable and an affordable trip. There are great flight deals to Ahmedabad available with Air India, Virgin Atlantic, British Airways, Emirates, Etihad Airways, Qatar Airways, and many more. Discover this beautiful place with a cheap ticket to Ahmedabad with Oceans Travel.