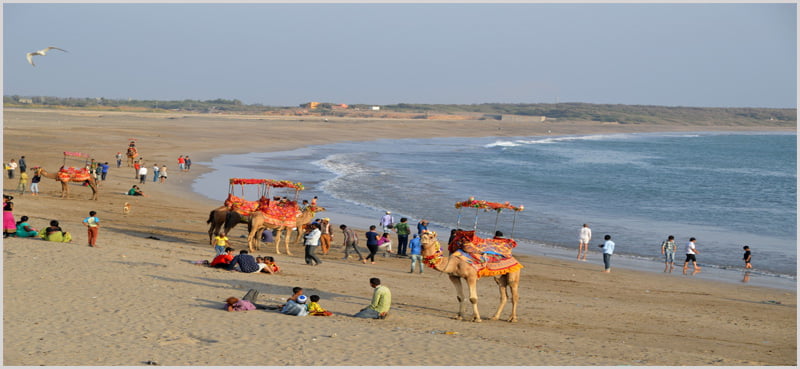 Ahmedabad continues to allure you forever with its age-old palaces, famous temples, spectacular animals, and birds in lush green forests as well as its vibrant colorful festivities. With the abundant tourist attractions in Ahmedabad, it offers something to everyone, and for this reason, many travelers take cheap flights to Ahmedabad and tour Ahmedabad.
Situated on the west coast of India Gujarat has a long coastline extending to 1,600 km. The state is dotted with some of the finest beaches of India popular for its clear blue water, swaying palm trees, and a pleasant climate. The Gujarat beaches promise a pleasant beach holiday by relaxing on sea beaches and with sightseeing and other activities. The coastal area is also popular for Portuguese forts, shore temples, port cities, and beach resorts.
Take a flight to Ahmedabad and enjoy the beaches of Gujarat. Whether you seek a holiday of rest and recreation or a lot of action, water sports, swimming, sightseeing, and cruising, then beaches are always high on your list of holiday priorities. With a long coastline, the longest among all Indian states, Gujarat and it's neighboring Union territories offer the tourist a wealth of seashore destinations-fine beaches, scenic coastlands, shore temples, sea-facing palaces, historic sea forts, coastal villages, awe-inspiring shipyards, princely cities that came up along the coast, bird-watching spots and India's first Marine National park. These coastal spots make an ideal break from the city life of Ahmedabad.

Diu Beach – Located at a distance of 466 km from Ahmedabad, the island Diu is a beautiful beach holiday destination in Gujarat. A combination of sun, sand and deep blue sea with numerous historic buildings and churches of Portuguese architecture make it one of the most sought after beach holiday destination in Gujarat.
Ahmedpur Mandvi Beach – is one of the finest beaches on the Gujarat shoreline. The beach is white and firm, ideal for walks and the water perfect for swimming. Seemingly unending, with sands ideal for castle building by kids, and shallow waters for a wading, this is a great spot for a family holiday.
Kutch Mandvi Beach – Situated on the northern coast of the Gulf of Kutch, the Mandwi beach is at a distance of 288km from Ahmedabad. It is one of the prettiest beaches in Gujarat, which is ideal for beach walk and swimming. It also offers several water sport options like skiing, scooting, surfing, para sailing etc.

Chorwad Beach – Located at a distance of 397 km from Ahmedabad, Chorwad is a small fishing village and a delightful beach is most ideal for long beach walks and a quiet holiday. It was once the royal summer retreat for the erstwhile Nawab of Junagadh and the old palace adds charm to this unique beach.

Gopnath Beach – Located at a distance of 275 km from Ahmedabad, it is a breathtakingly beautiful sea beach, which has lovely soft sand with picturesque surroundings. The Rajpara village, Jhanjmer Fort, Talaja Jain Temple and the Gopnath Temple are some of the charming spots near the beach.
Somnath Veraval Beach – Located around 412 km from Ahmedabad, the sea shore township of Veraval and the temple town of Somnath, offer pleasant beaches for wading or walking by the sea, picturesque fishing harbours and old architecture. The shore temple of Somnath is one of the twelve 'Jyotirlingas of Shiva'. The temple is believed to have appeared first in gold, at the behest of the moon-god, next in silver, created by the sun-god, a third time in wood at the command of Krishna, and finally in stone, built by Bhimdeva, the strongest of the five Pandava brothers from Mahabharata.
Porbandar Beach – Located 408 km from Ahmedabad and situated along the Arabian sea between Verval and Dwarka beach is popular for glorious sunset views, delicious sea food on sea side restaurants, beach resorts. One can also spot a number of bird species including the flamingos at the beach. There are also some other tourist attractions along the beach that are worth visiting.
Dwarka Beach – Located about 441 km from Ahmedabad, it is well known for it's holy temples and spiritual connections, Dwarka has some really pleasant beaches and sea views.
Beyt Dwarka Beach – Okha, north of Dwarka is a jetty, from where one can get ferries for Beyt Dwarka, which is an island covered with temples, white beach, coral reefs and extensive marine life. Dolphins and porpoise can be seen surfacing to breathe; sea turtles, octopus, starfish, sea urchins etc. inhabit the beach.
Madhavpur Beach – Endowed with beautiful sandy beaches lined with coconut trees the town finds mention in scriptures as that of great antiquity, for it is believed that Krishna had married Rukmini at this place, the legend is kept alive by the Mer community by holding a fair on Chaitra Sud 12 every year. The Haveli temple of Madhavraiji is the chief attraction.
There also accommodation facilities are available in several beach resorts situated at almost all beaches. These resorts offer adequate facilities with well-appointed rooms & suites, along with multi-cuisine restaurants and various recreational facilities. So why not avail a great deal on your holiday to Ahmedabad and book your cheap tickets to Ahmedabad now.
Discover Ahmedabad and its beauty, charm, and history with Oceans Travel. With cheap flights to Ahmedabad made easily available from all UK cities like London to Ahmedabad, Birmingham to Ahmedabad, Edinburgh to Ahmedabad, Manchester to Ahmedabad, and many others to Ahmedabad where you can have a memorable and an affordable trip. There are great flight deals to Ahmedabad available with Air India, Virgin Atlantic, British Airways, Emirates, Etihad Airways, Qatar Airways, and many more. Discover this beautiful place with a cheap ticket to Ahmedabad with Oceans Travel.